Warhammer 40k is a tabletop war game featuring a multitude of factions. The rules are fairly easy to learn with a few of the more obscure rules taking a bit of time to fully master. Stop by the shop and ask to have someone run a demo game with you. If no one is available at the moment, we can schedule a time for you to come out and learn.
If you'd like to learn more about the factions that make up the game, the best place to check is the
wiki
.
---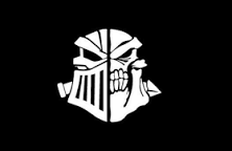 Warmachine and Hordes, more commonly referred to together as Warmahordes, are sister games that can be played together. They share most of the same rules, but different in a few places. Warmachine offers seven armies to choose from, where as Hordes offers six. Even after choosing an army, there a numerous "factions" within each army. Even if two people are playing the same army, the chances are good that they won't be playing the same list, they might not even play the same models. A great place to learn about the varies rules and armies is
Battle College
. Stop by the shop and ask to have someone run a demo game for you, or contact the area Press Ganger Jeremy Weygant at deathknight123246@gmail.com about scheduling a time for him to come out and run one for you.
---
We will also order you anything you need from a variety of other war games. We have Star Wars Armada currently in stock, as well as Flames of War and Warhammer Fantasy.